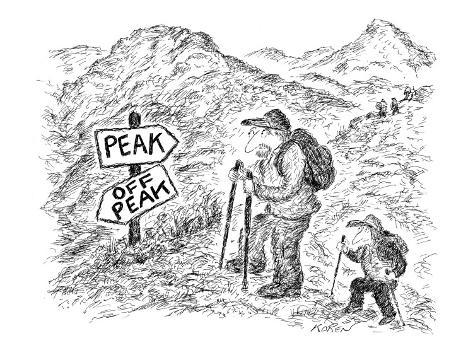 I prefer to do things at "off-peak" times. "Peak" hours, or rush hours, are the worst. They literally attack my will to live. After years of going to sporting events and all sorts of live concerts, these peak gatherings also lost their charm. Some people find excitement in the gathering of crowds, and I once did, too. No more. For the past few years, I've tried to arrange my life and schedule such that I rarely have to commute when everyone else is, and I'll avoid all the events (and trappings) that seem to shut down parts of the city. Once, my lovely wife wanted nothing to go to Hardly Strictly Bluegrass in the park — since we now live outside SF, I drove in, dropped her off to meet her friends, and proceeded to look for parking for 90+ minutes before I got lucky. I'm usually in SF now about two times per week, but I always leave after each rush hour and plan my day around it. Not doing so just ruins life.
I try to operate online at off-peak times, as well. I've been using Twitter now for almost five years. I use it a lot. It's how I "see" the web. But, during the day, it's just mostly people pushing their own work agenda. It's mostly about professional broadcasting. That serves a good purpose, but it isn't always fun. Late at night or on the weekend, however, Twitter has a much different flavor, so whereas peak traffic in my world may happen from 7am – 7pm, I try to be active outside of those hours. I don't plan it that way, but it tends to happen. One of my favorite things to do recently on Friday nights (I hate going out on Fridays) was to cook dinner, unwind with wine, catch up on the email I ignored, and once everyone was asleep, chat with others on Twitter about things I was thinking about, and interacting with the other "off-peakers."
This is just me. It is not normal behavior, but whatever. I just like being online and engaged when others put away their devices and unplug. I've been working out of different companies during the days and in dealflow meetings, so I miss all the news or instant commentary. Peak traffic isn't my thing.